Navigation for Station navigation
Competition
Answer this Week's Question
Please do not submit more than one entry.
Prize winners will be announced each Monday. Entries close at midday on Friday.
Conditions of Entry
Entries close at midday on Friday.
Radio New Zealand Concert's decision is final and no correspondence will be entered into.
Listeners' contact details will only be used for the purpose of notifying winners and sending out prizes.
Last Week's Question:
Question: Although not so well known these days, Moskowski was a star pianist and teacher in the late 19th century. Who was the later-to-be-famous British conductor who went to Moskowski for private lessons in 1904?
Answer: Thomas Beecham
This week's prize: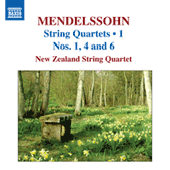 3 CDs: Mendelssohn: String Quartets 1, 2 & 3. New Zealand String Quartet (Helene Pohl (violin 1), Douglas Beilman (violin II), Gillian Ansell (viola), Rolf Gjelsten (cello) (Naxos 8.570001, 2 & 3)